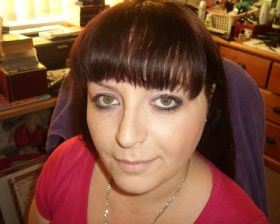 1) Your book BaSatai: Outside In has such a peculiar name, tell us more about the story behind it.
BaSatai is referring to the supernatural people from the parallel world
H-Trae. The main character in the book Armani is a BaSatai hidden away on earth. Outside In refers to the way Armani feels like an outsider, different, singled out in the book there is a section where Rafael tells her 'why are you always looking from the outside in?'. This book is mainly about Armani's struggle with looking from the outside in.
2) Tell us in your own words what the book BaSatai: outside in is about?
Armani is plagued with a curse in her blood designed to break the parallel divide between H-Trae and earth when her blood spills and she dies. As she comes closer to turning 18, the elite BaSatai warriors and her Guardian have come to train her and take her home where she can be better protected. Yet Armani does not accept the curse in her blood nor does she accept the BaSatai and her Guardian giving up their lives just to protect her. Armani is suffering from human emotions and struggles to understand her purpose and identity in life. Her Guardian Karhl also arrives to guide her through the process of crossing over with Rafael, an elite BaSatai Warrior, who stirs up more confusion, emotions and guilt in Armani. She refuses to fall into line and doesn't want to go back. She's a walking target for her enemies crossing the divide to find her as the blood curse matures, the Supernatural's are following the scent and willing to kill her to fulfill the curse.
3) Which are some of the most common methods that you use when writing a book?
I listen to music loudly. Within Temptation is my favorite band to write this style of book to. I have a very eclectic taste in music and depends on what I'm writing. I also go to the gym to clear my head before writing.
4) What inspired you to become a writer?
I've always wanted to be a writer. Finding a second job to maintain my lifestyle while I build my career as a writer was a lot harder. I've worked in retail, childcare, beauty therapy and currently work as an Executive Assistant. As for my writing, my wild imagination is what keeps me inspired.
5) Which is your favorite Character of a book and why?
I always get asked this question in many interviews and probably answer differently every time. Right now, my favorite character is Rose from Vampire Academy Series. She is one tough cookie and so real in her emotions and purpose.
6) What advice would you give to young writers and independent authors?
Keep writing, learn your craft, laugh lots, have a thick skin, please don't plagiarize other writers work - its illegal and morally wrong from my pov, just use your imagination and write, write, write. Also get used to the fact that not everyone will like what you write but others will. Never respond to negative feedback and be grateful someone read your work. All reviews are great even the negative.
7) If your house caught on fire and you could only save 3 books, which ones would you choose? (I always ask this)
Easy - my hardrive would be the first thing I take with me, it has a library of books on it, but the 3 physical books I would grab are
1. Vampire Academy - Richelle Mead
2. Twilight - Stephanie Meyer
3. A Secret Love - Stephanie Laurens
8) What song do you think describes best the relationship between the main characters of your book?
Ooooh, I love this question. All I Need by Within Temptation is the song for Rafael and Armani.
9) If your BaSatai was made into a movie witch actors would you choose as your main characters?
Firstly yay BaSatai is being made into a movie, *little dance*, I do have an idea of who would play everyone, in fact I've kept pictures of all the characters in my book, of roughly what they would look like but here is my final cast for the main- main characters.
Armani - Emma Rose Roberts (with dark hair obviously)
Rafael - Caleb Danvers
Karhl - Xavier Samuels
Jayani - Demi Lovato
Lily - Katie Leung
Sipherion - Richard Armitage
Valko - Douglas Booth
Evander - Adam Beach
Reina - Natalie Dormer
10) Are you thinking about writing another book, novel or story soon?
BaSatai: Outside In is book 1 in a series, so yes I'm already onto the second book in this series which is going to be full of adventure, romance and confrontations. The first book is already full of surprises. I'm not giving away any spoilers :)